Just a reminder to schedule your appointmrnt to save a life!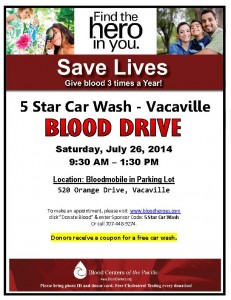 Download Flyer
This summer, please help us boost the local blood supply. Your support will help save lives in our community.
On Saturday, July 26th 5 Star Car Wash in Vacaville is hosting a blood drive from9:30 am to 1:30 pm.
Each donor will receive a coupon for a free car wash!
Please click the below link to make an appointment.
On behalf of the hospitals and patients we serve, thank you for your lifesaving support. You can make an appointment here.
Blood Centers of the Pacific is a nonprofit, community-based organization that provides blood and blood components to hospitals, physicians and patients throughout Northern California. It also houses the Blood Systems Research Institute which conducts medical research to improve blood safety and patient care. Blood Centers of the Pacific helps 50,000 patients every year with blood donated by community volunteers.
A subsidiary of Blood Systems, the second largest blood collection organization in the U.S., BCP is governed by a voluntary Board of Directors. BCP's board represents community leaders in the fields of medicine, business and civic service and is licensed by the Food and Drug Administration.
We have approximately 400 full-time and part-time employees, including physicians, directors, laboratory assistants, phlebotomists, registered nurses, medical assistants, donor recruiters, hospital services personnel, research and administrative staff. We are dedicated to serving the community by ensuring there is always blood for those in need.
Blood Centers of the Pacific provides the critical link between blood donors who generously give the gift of life and the local patients who need this lifesaving gift.
BCP works closely with businesses, community groups, non-profit organizations, churches, synagogues, schools and colleges to schedule "on-site" mobile blood drives. We process more than 200,000 blood components, and distribute about 145,000 pints of blood and almost 24,000 units of platelets to more than 50 hospitals annually.
Thousands of lives are sustained, even saved through blood transfusions and research that come from Blood Centers of the Pacific.
Blood Centers of the Pacific is licensed by the US Food & Drug Administration and the CA Department of Public Health. It's also accredited by the AABB and the European Union and a proud member of America's Blood Centers, a national network of community-based blood centers.