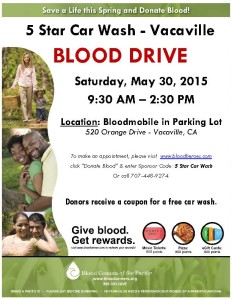 Download Flyer
DONATE BLOOD, SAVE A LIFE AND SHINE UP YOUR CAR!
Blood Centers of the Pacific and 5 Star Car Wash Partner for a Lifesaving
Blood Centers of the Pacific (BCP) and 5 Star Car Wash team up for a May blood drive. There is always a need for blood and only volunteer donors can fulfill that need for patients in our community. Please join us in saving lives! Donors will be thanked with a coupon for a free car wash.
What: 5 Star Car Wash Blood Drive
When: Saturday, May 30, 2015 9:30 am – 2:30
Where: Bloodmobile at 520 Orange Drive Vacaville, CA 95687
To make an appointment, please visit www.bloodheroes.com, click "Donate Blood" & enter Sponsor Code: 5 Star Car Wash or r call 707-448-9274.
BCP is proud to partner with local businesses like 5 Star Car Wash to achieve our lifesaving mission. BCP is a nonprofit organization that provides blood prodcuts to 49 hospitals in Northern California.
Contact: Andrea Casson
707-280-6618
acasson@bloodcenters.org
www.bloodcenters.org