As reported today in the Reporter by Robin Miller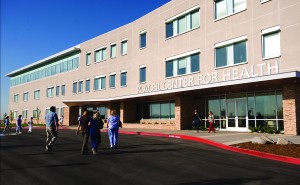 Bill Proestler, owner of 5-Star Car Wash & Detail Centers in Vacaville and Fairfield, is also a grandfather. If you had asked him a decade ago which was more likely, becoming a successful businessman or becoming a grandfather, his answer might have surprised you.
Sixteen years ago, he was told that because of her treatment for cancer his daughter, Kortney, would never have children.
She had been diagnosed with non-Hodgkin's Lymphoma and "was in intensive care for over six months and ended up with a bone marrow transplant," Proestler explains. "At the time, this was considered the last resort, but now it has become mainstream."
Because of the extensive chemotherapy, doctors told Proestler his daughter would never have children.
"After she recovered, she continued college and graduated from UC Davis," he noted. "Right after college she got married and now has two children."
Those are the kinds of miracles that can inspire a person and Proestler says it is his daughter's recovery and thriving life that have inspired his business commitment to support the UC Davis Cancer Center as a way to pay back some of the blessings his family has enjoyed.
"I keep donation cans at the cash registers in all our businesses," he said. "We have made numerous donations to the Cancer Center from the coins that our customers throw into those cans."
One recent donation stands out, he said.
"Last week we counted up the dimes and nickels and were able to send them a check for $4,000," he said. The funds are earmarked specifically for the UCD Healthcare research on cancer cures and stem cells.
For Proestler, the chance to help fight cancer is a matter close to his heart but he also thanks customers whose donations of spare change "really add up," he said.