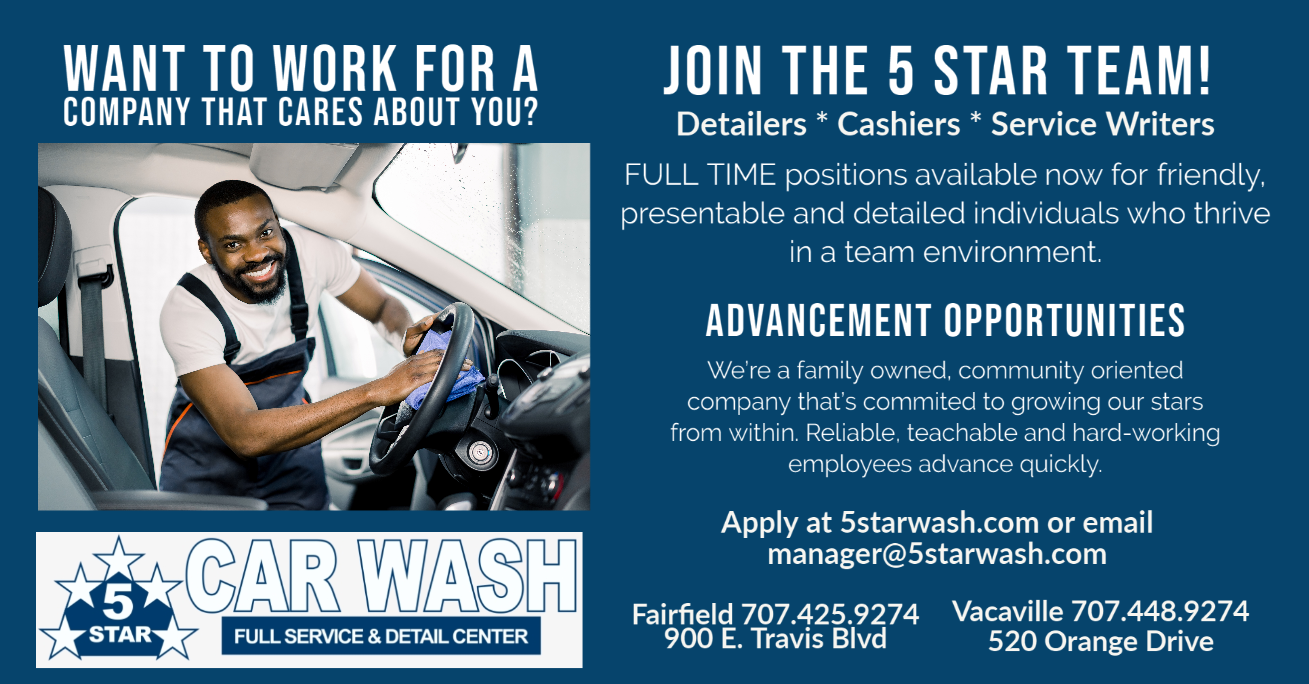 Click The Button Below For Application
We offer opportunities to people who are dedicated to the highest quality and customer service. If you believe you can meet the above basic qualifications, please download application and turn in completed application to desired facility of employment.
All of our positions can lead to advancement such as supervisory or management positions. Team work and dedication to provide excellent customer service is the main criteria for advancement. 5-Star Car Wash tries to promote from within whenever possible. We try to provide a relaxed friendly environment and training for success.
Bill Proestler
CAR WASH SITE MANAGER
Essential Duties:
Ensure customer satisfaction
Identify and promptly resolve customer concerns and complaints
Ensure car wash quality standards
Manage overall vehicle flow and production in the car wash operation
Ensure car wash compliance with all government standards
Conduct on-going safety meetings
Perform opening and closing duties
Maintain car wash equipment
Manage inventory of chemicals, towels, etc.
Recruit and hire car wash staff
Train all car wash employees according to 5-Star processes
Ensure service advisers, greeters achieve customer satisfaction and average ticket price goals
Assess performance and skills of all car wash employees and make necessary adjustments
Provide feedback, coaching and corrective action to employees as needed to maintain standards
Conduct performance evaluations on an on-going basis to meet goals
Schedule car wash employees to meet hourly labor to sales goals
Edit employee time clock punches daily to ensure accurate payroll
Maintain accurate records and reporting
Monitor vendor deliveries and service schedules
Ensure that housekeeping duties are assigned daily such as the lobby areas, grounds and over all car wash facility
Safety is a prime concern due to constant vehicle movement, you must be alert to ensure that all safety procedures are adhered to
5-Star Car Wash & Detail Centers has been in operation since 1998. We offer a competitive compensation package and state of the art facilities. We are looking for career minded individuals willing to learn our process. The individual should be a people person capable of interacting with customers, employees and vendors to meet the company goals.